BTS, also known as the Bangtan Sonyeondan, Behind the Scene, continues to break records every day, and becoming household names.
The members' RM, Jin, SUGA, j-hope, Jimin, V, and Jungkook, debuted as BTS in 2013, after years of undergoing passionate training under their music label Big Hit Entertainment (currently HYBE Corporation). People in the Korean entertainment industry never expected much of a group from an unknown agency. Yet, now the group is taking the over the world!
People describe's BTS as is the epitome of growth and influence because of their hard work, passion, and sincerity for their craft, in the music and entertainment industries.
On April 22, 2021, via virtual press interview, Alfredo S. Panlilio, Smart President and CEO, states:
"As the leading digital services provider in these crucial times, we at Smart are committed more than ever to make it simple and easy for Filipinos to go all out on their passions and fulfill their purpose… we want to inspire the youth and create a better world for them".
Smart executives describe that the group, BTS, undeniably exemplifies stellar teamwork, creating meaningful connections, hard work, passionate for what they do, all of which Smart also values.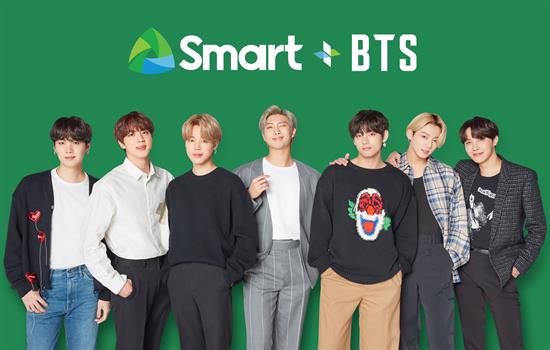 On the virtual event, Smart Telcom launches the long-awaited video, which stars the astronomical septet. Shot in Seoul, Korea, the video showcases the members singing and grooving to their outstanding hits "Life Goes On" and "Dynamite," the Grammy-nominated song. 
Excited for the official release of this powerhouse collaboration? Follow Smart Communications on Twitter, Facebook, and Instagram to get the latest updates on BTS' "Live Smarter, Live with Purpose" campaign.