The online trading terminal consists of two main platforms: PC-based web or exe terminal and mobile/tablet-based app terminal. In mobile/tablet devices, app-based trading terminals are used, while on a PC/laptop, one can use a web browser or an exe-based trading terminal. Exe or app-based trading terminals are separate software applications used in PC/laptop and mobile/tablet formats, while web-based terminals are designed for a web browser for use on a PC or laptop or even on a mobile device or tablet. But the app-based terminal is ideal for mobile/tablets, as a web browser-based terminal may not be as convenient or even properly designed for mobile/tablets, as they usually tend to have a relatively small display screen.
A new trader can open a demo account with any CFD broker online to observe various features of the trading platform (terminal), as well as pros and cons of that particular broker. An ideal trading terminal should have all the common CFD instruments in various asset classes like Equities, indices, FX, commodities, and also Cryptos. A beginner or even an experienced trader can check the charts and technical indicators available in the trading platform for the technical analysis part, which is vital for insightful trading.
A typical app-based mobile/tablet trading platform looks like this:
A mobile trading platform has almost all the features of a web/exe platform but may lack some special features of an exe-based trading platform. Before the COVID pandemic, mobile trading platforms were popular among retail CFD traders, who can trade through their mobiles outside home or even in-office, rather than using an office system or their personal laptop, causing inconvenience. After the work from home era started to end, web/exe/PC-based trading platforms got more priority because their bigger screens allowed for more technical charts, market watch, and other trading features.
An exe based trading terminal looks like this: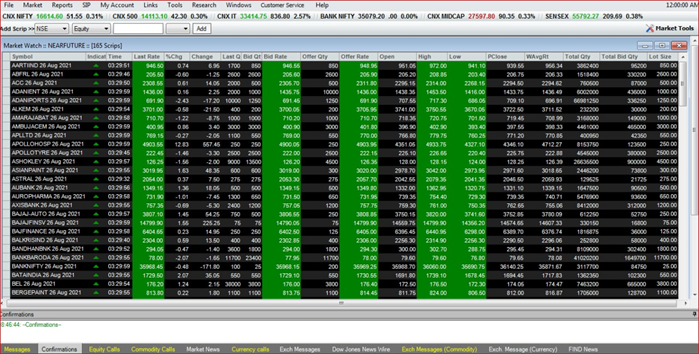 A web-based trading/CFD terminal typically looks like this:
Most of the features are common to both exe and web-based trading terminals except that on some exe terminals, there may be a scanner to track actions of all the instruments (like day high/low, 52-weeks high/low, etc), which may not be available on the web-based terminal.
On an exe-based terminal, there is no need to open a browser, rather one has to open the software:
Generally, an exe-based terminal may be faster than web-based as it uses less bandwidth, but at the same time, an exe-based terminal requires certain hardware and OS features to run smoothly. In some exe-based terminals, a trader can open a chat window for multiple instruments at a time to see price actions and to open/close CFD deals.
Differences between web and mobile trading platforms:
An experienced trader may prefer a web/exe (PC) based trading platform rather than mobile, but a retail trader may prefer an app-based mobile trading platform for privacy and ease of trading in a public place or office.
Web and exe-based platforms can provide more advantages than mobile platforms such as bigger screens, multiple charts, market watch, news windows, and more, allowing experienced traders to watch multiple charts in a PC-based exe platform, unlike on a mobile-based platform.
PC based web/exe trading terminals are faster than mobile in general.
The mobile is more affordable for a small retail trader than a PC, and thus he can prefer to trade CFDs online with a mobile app rather than a PC.
Bottom line:
For experienced traders, a PC (exe/web) based trading terminal is ideal, while for small retail traders, an app-based mobile trading terminal is more affordable, convenient, and preferable. But at the end of the day, each CFD trader may choose what is best for him.